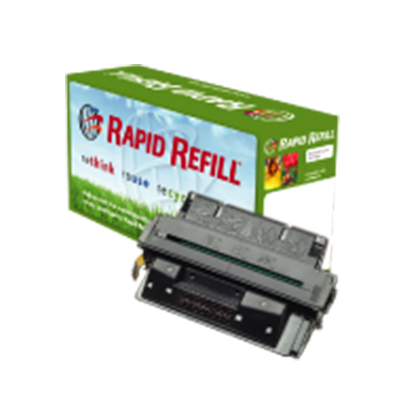 High quality laser toner cartridges that deliver great printing value are our business. Rapid Refill can provide the cartridge you need for your printer so you never run out. We provide toner cartridges for all major laser printer brands including Hewlett Packard, Canon, Brother, Lexmark, Dell, Xerox, Samsung and many others. If you have a true specialty printer, give us a call to find out if we have the cartridge in stock or if it is available as a special order item.
In Stock and Ready For You
Rapid Refill retail stores stock an extensive lineup of print solutions products including popular brand name inkjet and laser toner cartridges and Rapid Refill brand inkjet and laser toner cartridges for virtually every printer, copier and fax machine on the market, all backed by our Satisfaction Guarantee.
Laser Toner Cartridge Storage and Handling Tips:
Do not attempt to open the cartridge. It will make an unbelievable mess!
Store cartridges at room temperature.
Avoid exposing a laser cartridge to excessive light.
When empty, store your cartridge in its original plastic bag and/or box.
Make sure that you remove any seal strips completely before use.