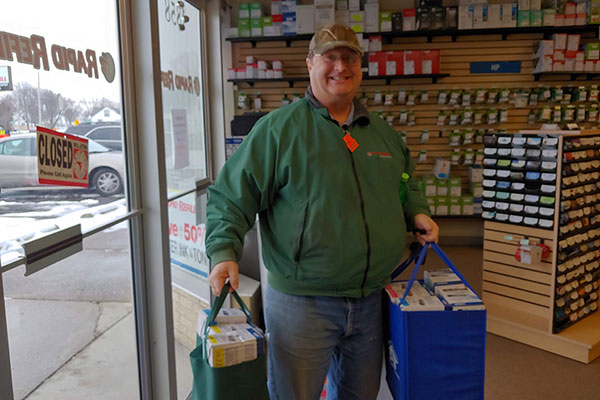 Rapid Same Day Delivery
When you're out - you're out! Don't miss that deadline, call Rapid Refill today and get the printing supplies you need today!
One of the reasons we say our customers make smart, confident buying decisions is our Rapid+Delivery service. Rapid Refill delivers free to businesses within our service area, when you need it. Whether you need Same Day, Next Day or Two Day delivery, Rapid Refill is your convenient source for printer cartridges and supplies.
No more waiting for a delivery to bring you print cartridges the day after you need them! Call us today and find out how fast Rapid+ Delivery can work for your company.
Commercial, Education and Government Quotes
Purchasing for commercial, education or government uses? Whether you're investigating Managed Print Services or just looking for a better solutions provider, Rapid Refill is your print experience expert. Request a free quote and savings analysis today.
Onsite Print Supply Management
Tired of running out of ink or toner at the exact moment your most important presentations need to be printed? How about losing productivity every time you send someone to the local office superstore, only to buy over-priced ink and toner?
Never run out of print supplies again! At Rapid Refill, we empower people to make smart, confident buying decisions and one way we help you do that is by managing your ink and toner inventory on-site, setting up automatic delivery and routine billing. And if you have an emergency, we're right around the corner, always eager to deliver what you need so you can delight your customers.
Now, it doesn't get much easier than that! Contact a Rapid Refill store near you to see if your business or organization can take advantage of this amazing service.
Commercial Recycling Programs & Opportunities
Rapid Refill was founded on recycling & preserving our environment.
Rapid Refill's Commercial Recycling Services offer another great reason to choose Rapid Refill as your company's print solutions partner. Whether in support of a sustainability policy or if you're just looking to pitch in, your local Rapid Refill store can help your business make a real difference.
The first Rapid Refill store was founded on the idea that we could turn used, empty inkjet and toner cartridges into useable products, all while saving our customers money. Today we are helping companies all across the United States with recycling.
Rapid Refill provides free ink and toner cartridge recycling services for all of our commercial clients and we are happy to provide consultations to anyone looking to recycle.
There is no doubt that "green" is the new black in the business world today. But recycling is more than a slogan, color-scheme or clever advertisement. At Rapid Refill, recycling is real. In fact, it is at the very center of what we do and who we are.
Each Rapid Refill store collects used, empty inkjet and toner cartridges, saving them from the fate of a landfill. Many cartridges that aren't returned to companies like Rapid Refill for recycling end up on a barge to a third-world nation to be incinerated or placed in landfills — dumping a countless amount of pollutants into the environment.
Plus, every cartridge refilled by Rapid Refill is one less new cartridge that has to be manufactured using polluting petroleum products.
Rapid Refill looks to make our community a cleaner place to live. Join the fight against pollution and waste and contact your local Rapid Refill store today.