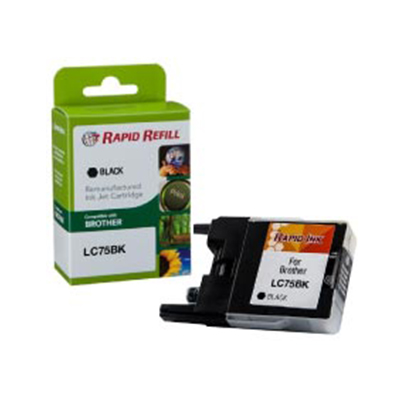 High quality ink cartridges that deliver great printing value are our business. Rapid Refill can provide the cartridge you need for your printer so you never run out. We provide inkjet cartridges for all major printer brands including Hewlett Packard, Canon, Epson, Brother, Lexmark, Dell and many others. If you have a true specialty printer, give us a call to find out if we have the cartridge in stock or if it is available as a special order item.
In Stock and Ready For You
Rapid Refill retail stores stock an extensive lineup of print solutions products including popular brand name inkjet and laser toner cartridges and Rapid Refill brand inkjet and laser toner cartridges for virtually every printer, copier and fax machine on the market, all backed by our Satisfaction Guarantee.
Inkjet Cartridge Storage and Handling Tips:
Do not remove the ink cartridge from its package until you are ready to use it.
If storage of a previously opened inkjet or ink tank cartridge is required, replace all protective covers and clips and place the cartridge in the original plastic bag, closing tightly.
Store the inkjet or ink tank cartridge in a cool dry area that is not exposed to direct sunlight.
Store opened or unopened print cartridges at room temperature. Do not expose ink cartridges to prolonged periods of low or high temperatures – Below 32ºF (0ºC) or above 95ºF (35ºC).
If print cartridge cleaning is required, only use lint-free cloths. If a cleaning agent is required, use a lint-free cloth slightly damped with purified water only. Do not use any other cleaning agents.
If a printer will not be used for extended time periods, turn off printer so in-machine storage steps are deployed by the printer.
Periodically run your printer's head cleaning program if your printer sits idle for long periods of time (days or weeks). (Refer to your printer's owner's manual)
When you first notice symptoms of image quality fading, skipping or streaking, replace the appropriate cartridge. This will ensure the cartridge can be re-used.
Do not touch the electrical contacts or print head on a cartridge with your fingers and avoid static discharge (shocking) the cartridge.
When replacing old cartridges with new cartridges, replace all covers and clips on the old cartridge to protect fragile components and ensure re-usability.
Return depleted cartridges for reuse as soon as possible. This helps maintain the integrity of the cartridge.